Metairie Music Club 2023 Piano Competition
Date: April 15, 2023
Location: Hall Piano Company
901 David Drive
Metairie, LA
Registration Deadline: April 1, 2023
The Metairie Music Club sponsors a Piano Competition annually in April. University professors serve as judges.
Piano competition winners are invited to perform at the Metairie Music Club's monthly meeting in May.
2022 Piano Competition Winners

Middle School Division (6th-8th Grades)
1st Place ($200) – Tory Tran
2nd Place ($100) – Marianne Nguyen
3rd Place ($50) – tie:  James Lawrence  & Wilson Zhen
High School Division (9th-12th Grades)
1st Place ($200)–Matthew Vuong
2nd Place ($100) –Gabriel Park
3rd Place ($50) –Sofia Roberts
                                              Congratulations to all Piano Competition Winners!
2022 Piano Competition-High School Division Winners 
L-R: Sofia Roberts (3rd), Matthew Vuong (1st), Gabriel Park (2nd)
2022 Piano Competition -High School Division Participants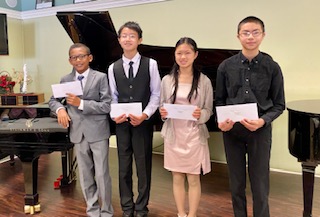 2022 Piano Competition-Middle School Division Winners
L-R: James Lawrence and Wilson Zhen (tie-3rd),
Marianne Nguyen (2nd), Tory Tran (1st)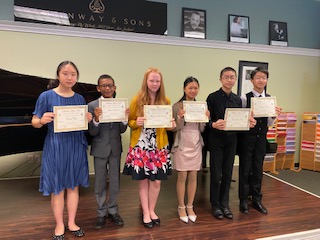 2022 Piano Competition -Middle School Division Participants
2021-2222 Participating Teachers:
Evan Arceneaux                                Dr. Chia -Hsing Lin
Lou Bush                                            Melanie Perez
Meme Coniglio                                  Sheila Schwartzmann
Louis Hackett                   
Rules and Regulations:
Please read carefully as there are several changes for 2023.
1. Entrants must be a member of a current Junior Club in the Metairie Music Club and be a student of a member in good standing of the Metairie Music Club. The teacher must attend at least one regular meeting or participate in one club function prior to the competition and must have been a member for the year prior to the competition.
2. The competition is divided into two Divisions:
                                     Middle School Division (Division 1) – Students in grades 6-8
                                      High School Division (Division 2)– Students in grades 9-12
3. Entrance fee is $25.00 per student. There will be no refunds for absences or cancellations after registration is received.
4. The competition is open to pianists only and late entries will not be accepted.
5. Repertoire must include three memorized pieces representing three of the four historical periods of music (i.e., Baroque, Classical, Romantic, and Modern. Popular music is not accepted for Modern). Please provide one original score of each piece with numbered measures. Music is to be turned in at the registration desk the day of the competition. Photocopies  of music are not acceptable and will result in the disqualification of the student.
6. First place winners are excluded from competition in the following year in the same Division, but may progress from Middle School Division (Division 1) to High School Division (Division 2.)
7. Awards are provided by the Metairie Music Club.
                                     1st Prize – $200 in each Division
                                     2nd Prize – $100 in each Division
                                     3rd Prize – $50 in each Division
Awards and certificates will be presented at an awards ceremony at the conclusion of the Competition.  A group photo will be taken at that time of all participants for our website.
8. The judges have the option of not awarding a prize, and there will be no awarding of ties.
9. Judges' comments, certificates and the students' music will be available at the Registration Desk at the close of the competition.
10. First place winners, in each Division, will be invited to perform at the MMC May meeting.
11. Teachers who have entered students are expected to work at the MMC Piano Competition. If they are unable to work, they must provide the Piano Competition Chairman, Sheila Schwartzmann, with the name and phone number of their adult replacement.  This is mandatory or their student will not be allowed to perform.  The replacement does not have to be a member of the Metairie Music Club but preferred.
12.Teachers, please use the check list below and download the 4 forms needed from our MMC website, place them in an 9×12 envelope and deliver, by the deadline (April 1, 2023), to:
Sheila Schwartzmann
7806 Jeannette Street
New Orleans, LA 70118
 email:  Sheila.schwartzmann@gmail.com
504-251-1829
Registration can be submitted by email or by hand delivery. Registration will be considered complete when the registration fee (and all required forms) is received by the registration deadline: APRIL 1, 2023.
The Metairie Music Club Piano Competition is co-chaired by Ms. Sheila Schwartzman & Mrs. Mary Monsted.
==========================================================================================================
APPLICATION CHECKLIST                              ***PLEASE PUT ALL FORMS IN A 9×12 LEGAL SIZE ENVELOPE***
_____ Two copies of Teacher Application/Master List. ONE COPY MUST BE TYPED AND EMAILED TO Sheila Schwartzmann at sheila.schwartzmann@gmail.com
_____ Two Student Adjudication Forms for each student. Music listed must be the same performed, in performance order, no changes allowed.
_____Release Form for Metairie Music Club Events (Each entrant/student must submit a release form.)
_____Teacher/Volunteer Work Form
_____ One total check ($25 dollars per student) payable to Metairie Music Club covering all entries.
______All of the above to be submitted to Piano Competition Chairman by the deadline date, April 1, 2023.
===================================================================================================================
Download Piano Competition Teacher Application/Master List
Download Piano Competition Student Adjudication Form (2 sheets per entrant)
Download Piano Competition Release Form for MMC Events
Download Piano Competition Teacher/Volunteer Work Form
Email Chairman Sheila Schwartzmann for additional details.
2023 MMC Piano Competition Information:
Date:                           April 15, 2023
Deadline to register:    April 1, 2023
Location:                     Hall Piano Company
901 David Drive
Metairie, LA  70003

Metairie Music Club, a non-profit organization made up of professional and non-professional individuals interested in the promotion of music in our community, encourages your participation in all of our events.
© 2022 Metairie Music Club