The Melodears
The Melodears is a small chorus who performs monthly at nursing home and retirement homes, usually on the second Wednesday of the month. These Metairie Music Club members enjoy using their talents to bring the the joy and blessings of music to those confined.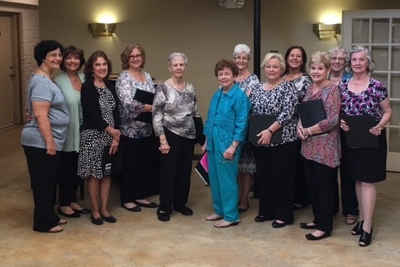 Melodears Chorus
Director: Iris Villarrubia
Accompanist: Diana Cangemi
Bettie Abbate
Rachel Abbate
 
Bea Girard
 
Joan Kittok
 
Doris Menezes
Cheryl Cummiskey
 
Leslie Hamer
Margarita Harvey
 
Jeri Landry
 
Melanie Perez
Debbie Federer
 
Bonnie Knowles
 
LoAnn Menzel
 
Irene Vile

Metairie Music Club, a non-profit organization made up of professional and non-professional individuals interested in the promotion of music in our community, encourages your participation in all of our events.
© 2023 Metairie Music Club